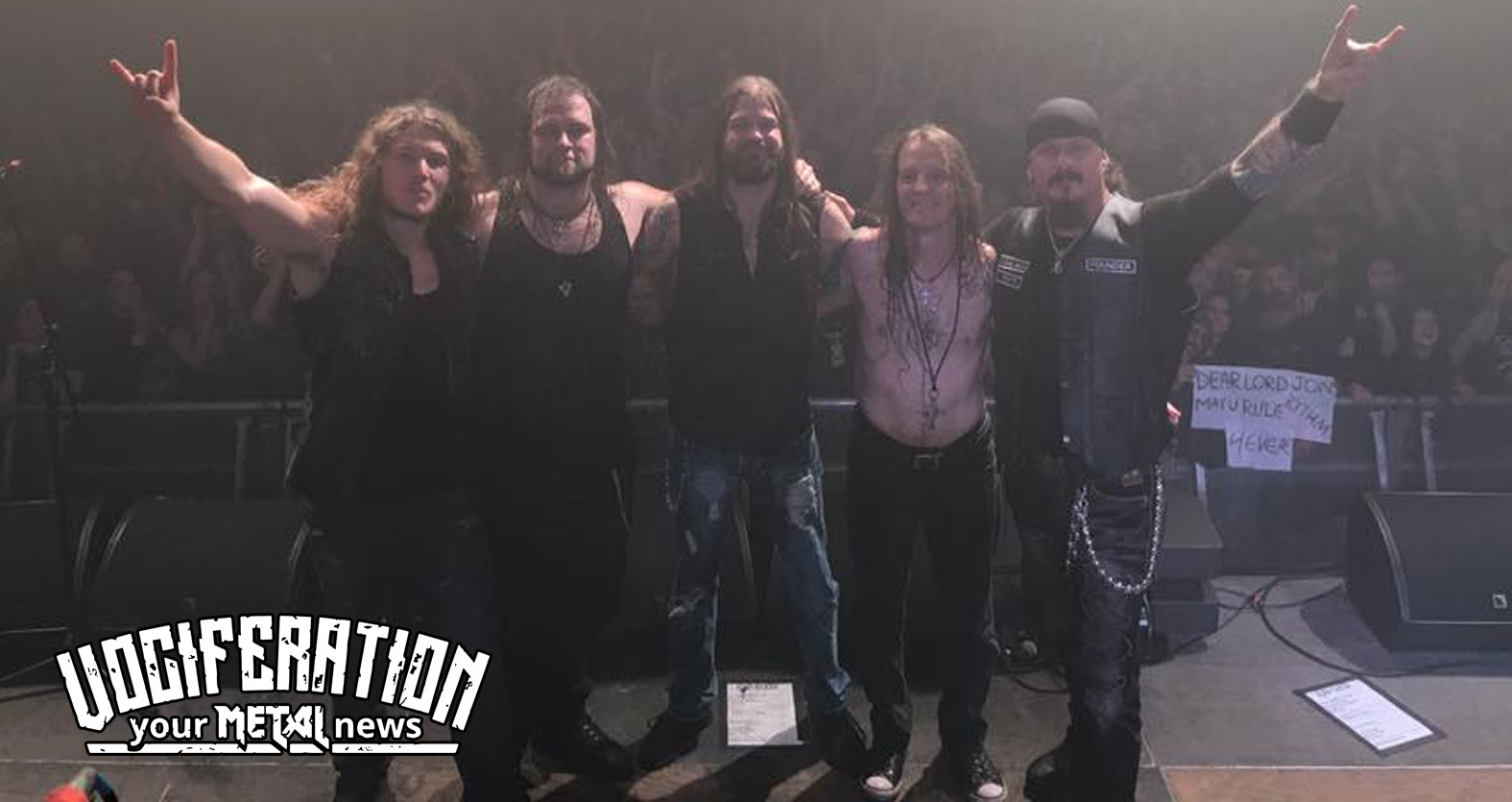 Metal Wani's Fernando Bonenfant conducted an interview with ICED EARTH founder, chief songwriter, and guitarist Jon Schaffer before the band's December 6 concert at Electric Brixton in London, England. You can now watch the chat below. A few excerpts follow.
---
---
On ICED EARTH's upcoming studio album, originally titled "The Judas Goat":
Schaffer: "Well, actually, ['The Judas Goat'] was a working title, and we canned that. So the album is gonna be called "Incorruptible". It's going to be out in May next year. We haven't spent really a year on the record. I bought a couple of buildings and turned it into the headquarters for the band, so that was a major amount of construction work to do, and build our own studio. So that's the headquarters now. And, really, only for the last four months have we been focusing on the album, on pre-production, the final arrangements and songwriting and everything. And now when we go back in January and we start master tracking, it will only take about five or six weeks to get the album finished. The way I work, the pre-production is where most of the time is spent so that we know exactly what we're gonna do when we get into master tracking and we just go for the best takes we can get at that point. So that's really where the bulk of the time was spent — on building the headquarters, building the studio, and then going in and doing the pre-production. So we're a little bit late, but it's gonna be worth it."
On how "Incorruptible" compares to previous ICED EARTH albums:
Schaffer: "They're all kind of their own thing, but I have a very strong gut feeling about this, and so does everybody in the band, that this is one of the really special ones. So I put it up there with 'The Dark Saga' [1996], 'Something Wicked This Way Comes' [1998], 'Dystopia' [2011] — it's in that league of records — so it's really gonna be something special, man. I know musicians always say that, but there is something going on here, so it's cool. We're all very excited about it."
On how ICED EARTH's lineup changes affect the creative process:
Schaffer: "Jake [Dreyer, guitar] coming in [this past September], he came into this really late, so he doesn't have any songwriting credit on ['Incorruptible'], but he's gonna be playing guitar solos on it. But he's got great ideas. One of the things when I audioned him, I wanted to hear where his head was at with original stuff, and he's got it. But from an energy standpoint, for sure. I mean, Jake's 24 years old, so he's bringing in a very youthful energy, and Luke [Appleton, bass] already does that as well. But I don't think it changes the… I mean, of course, they all bring their talent to it, but as far as the vision and the end result, [it] doesn't really change very much, because I know what I want. That's why ICED EARTH is a brand, that's why we've had a lot of success on every chapter of the band's history. I don't think there's any other bands that have had five lead singer changes that can say that they were successful through all of it, and we have been. So it's all about leading and knowing the vision and staying true to the vision. And that's the reason that I named this record 'Incorruptible' — because ICED EARTH is… That logo represents 32 years of dedication to heavy metal, and it is absolutely incorruptible. This vision can't be corrupted; there's no amount of money on earth. So that's the whole thing of what we're about. This is the real shit, it comes from a real place, and that's why we have some of the most loyal fans in the world, because they know it's real."
---
---

---
---